It all started with a t-shirt design
I didn't learn to ski until my freshman year of college. I moved to Bozeman with no real idea of what winter was like (seriously - the only jacket I brought was a rain jacket). A new friend had talked me into getting a setup for skiing, she told me it was the only way to survive winter in the mountains.
So I picked up a pair of used boots that I didn't know were 3 sizes too big and a decent pair of skis and bindings. I fumbled my way around the mountain for a few seasons, slowly learning from patient friends, enrolling in a skiing class at MSU, trying to find my confidence and figure out how to get all the right gear as a poor college student.
It wasn't until a few years into the sport that I truly began to love it. I know that first season pass purchase and finally getting the right gear helped. But the real moment I fell in love with skiing was when I found my girl squad to ski with. I was no longer worried about speaking up for myself or crying on the hill, iykyk. I was giggling all day, and the hooting and hollering never ended I want everyone to feel that empowered, whether they're a seasoned pro or getting out for the first time.
In 2017 while I was working at Heyday and helping with their private label apparel line I threw 'ski like a girl' on a tshirt. I quickly realized I wanted this to be more than a simple tshirt design. I wanted this to be a movement.
Ski Like a Girl is a community encouraging women and girls to get out on the mountain. Through our brand ambassadors, we are supporting girls who may not have a chance to experience getting on the mountain. We want to continue impacting girls and women who want to be a part of, or who already are involved in the ski community. Thank you for being here.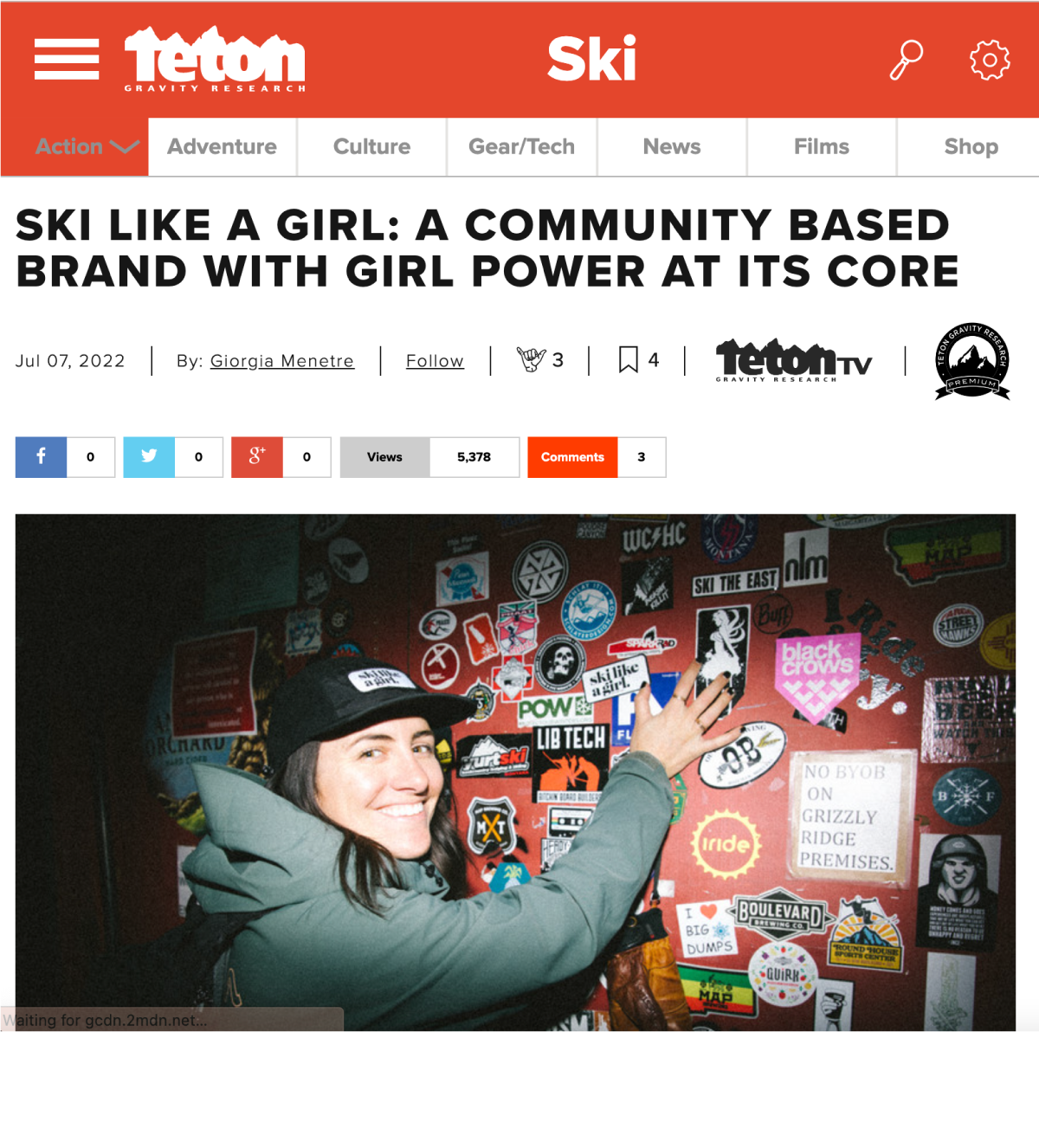 it's legit
Featured in Teton Gravity Research's column 'Women in the Mountains' by Giorgia Menetre.
READ IT